football breaks

Bayern Munich
Matches season 2015-2016
Please sign up to our newsletter to be the first to know when the fixtures for the new season are released or contact us for more information.
Matches
Date
Price

2 nights, Sat. 24 or Sun. 25 February 2018

choose from many flights, hotels and match seats

from

£319

(flight, hotel, ticket)

from

£237

(hotel, ticket)

2 nights, Sat. 10 or Sun. 11 March 2018

choose from many flights, hotels and match seats

from

£346

(flight, hotel, ticket)

from

£250

(hotel, ticket)

2 nights, Sat. 31 or Sun. 1 April 2018

choose from many flights, hotels and match seats

from

£760

(flight, hotel, ticket)

from

£623

(hotel, ticket)

1 night, Sat. 12 May 2018

choose from many flights, hotels and match seats

from

£462

(flight, hotel, ticket)

from

£362

(hotel, ticket)
Munich
Munich is a large Bavarian city in southeast Germany. It is known as an international centre of business, research, finance, technology, science and of course football! The city is home to two major football clubs: FC Bayern Munich and TSV 1860 Munich, both based at the Allianz Arena. The stadium was totally rebuilt in 2005 and used as a venue in the 2006 World Cup. It is said to be one of the finest football stadiums in the world!
Located on the River Isar, Munich attracts many visitors to its museums, architecture, shopping, parks and world-famous Oktoberfest beer festival. It is a sprawling city and the best way to get around is by tram (streetcar), bus, S-bahn or U-bahn (underground) trains. The city has a thriving cultural scene and a vibrant nightlife making it a great destination to visit for a football break at any time of year.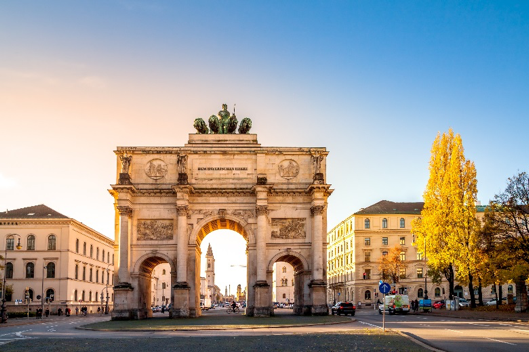 FAQ
Do you have any last-minute deals?
Our last minute deals are often on request. Please contact us via email with details of the match you wish to see we can then supply you with offer details if they are available. A good alternative to waiting for a last minute deal is to book our match of the week which is displayed on our website.
Why do the prices on your website fluctuate?
This is mainly due to fluctuating air fares by the airlines we use. Prices often increase as the departure date approaches so it is advisable to book as early as possible to guarantee the best price.
What is not included in the price of my package?
Travel insurance, transfers and expenditure whilst on your football break are not included. Travel Insurance can be booked in step 6 of the booking process. Information on your route from the airport using public transport will be issued with your travel documents. We can arrange private transfers from the airport to your hotel in many cases. For a price on this service please contact us with your booking number.
Can I extend my trip?
Yes. Our football trips are fully customisable and can be extended, but not shortened. You can use the calendar to determine your preferred travel dates. The premium for the extra hotel nights is shown in Step 3. However, you cannot depart later or return earlier than our dates, which are chosen to allow for any possible changes to schedules.
Is the transfer included?
Your trip does not include transfers. Return transfers from the airport to the hotel are already available for you in the booking process should you wish to add these to your package. On reserving this service you will receive customised directions with your travel documents. Information is provided on how to get from the airport to the hotel and from the hotel to the stadium whenever you can travel by public transport. However, it is possible to book transfers with your package for most of the destinations.
Is a day trip possible?
Unfortunately, the start and end of the game does not allow for same day travel. Therefore, a minimum stay of 1 night is required.
Why is travel to Spanish and Italian league matches always 3 days?
The Spanish league matches are always played on Sunday or Saturday. The kick-off is usually at 22.00 hours and 18.00 hours respectively, never before. The exact match day and start time is announced 10 days before the competition. Our trips are adjusted accordingly, so you do not have to take this into account.
Is the package still available?
All travel bookings made online are guaranteed to be available. Thus, you are assured of a definite flight, hotel and stadium seats reservation.
Guarantees
Guaranteed seating together in the stadium.
---
ATOL, which is part of the Civil Aviation Authority, is a government backed financial protection scheme
---
CCBot/2.0 (http://commoncrawl.org/faq/) -